Timeless designs. Impeccable quality.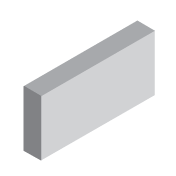 These units are great for a wainscot and to add that traditional stone look to your project.
Shedding water away from your window is important. Add a long lasting cast stone sill to keep your openings dry.
Nothing says classy like when you add a cast stone balustrade system to your front entry or porch.
50+ years experience
Nothing says quality like experience. With 50+ years experience in the cast stone industry, we know how to get things done. That's why we are THE Cast Stone Company.
State of the art technology
When you need custom profiles, textures and intricate designs, it takes the right equipment. Indiana Cast Stone has spared no expense when it comes to technology and quality.
Unmatched service and attention to detail
Service is what sets you apart from the competition. We have mastered this aspect of our business. You will not find another company more in tune with the needs of their customers. When you buy from ICS, you become part of our family.
Why choose Indiana Cast Stone?
We have been producing impeccable cast stone for decades. Indiana Cast Stone is a full service company. We sell through distribution, direct to masons, general contactors and home owners depending on the market. We meet with architects to make sure they know how to specify and install our cast stone so when it comes time for installation, there is no question. This saves you time and money. We strive for perfection in our stone and our service. Choose Indiana Cast Stone when you desire high quality cast stone made to the standards of the Cast Stone Institute, on time and within budget.
We've Been Creating Classics for Over 50 Years
Don Holtz
February 2, 2022.
I have been doing business with Jim for many years. The service is amazing, I get my orders on time with great quality. I can definitely recommend Indiana Cast Stone to anyone who needs a reliable supplier.
Ken Hays
February 2, 2022.
Indiana Cast Stone's attention to detail, communication and quality are among the best in the industry. They are very helpful and always meet our schedule.
Doug Barger
February 1, 2022.
As part of the ownership team for HIRAM Masonry, I have worked with Jim over the past 10+ years. His knowledge and experience regarding cast stone technology and manufacturing is why he is our go-to stone expert. I highly recommend ICS!
S&S Tax and Accounting Services
January 27, 2022.
Highly recommend professional service quality products Jim is always on top it for us at Fricioni Masonry
Jennifer Richey
January 27, 2022.
Jim and his team have wonderful customer service and stand by their products.
Ashley Spence
January 27, 2022.
Indiana Cast Stone has been great to work with. Materials always look good and come on time.
Scott Herrington
January 27, 2022.
Great Service and products! We have used them many times and highly recommend!
Jessica Persico
January 27, 2022.
Indiana Cast Stone provides excellent and quick service! Jim the owner is extremely responsive and helpful. Can't say enough good things about the company.
Michael Bruder
January 27, 2022.
We presented Indiana Cast Stone with the task to reproduce a striated stone for repairs to a historical building. Shop drawings were produced quickly and the material was cast and ready to meet our fast track schedule just as promised.
Adam Marlman
January 27, 2022.
Indiana Cast Stone 'raises the ante' in service, responsiveness, and product; helping us set a higher standard for our customers. We highly recommend them.
Indiana Cast Stone
650 W. Market St.
Spencer, IN 47460